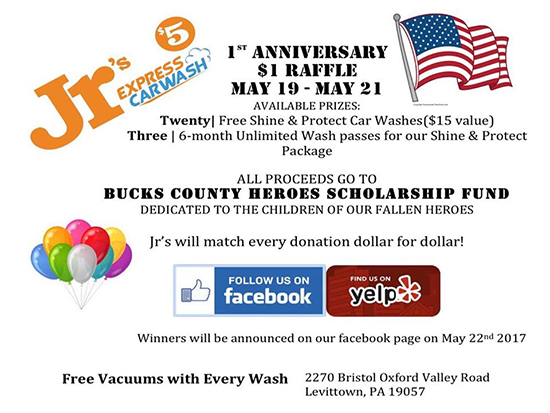 1st

Anniversary Raffle


( May 19 - 21, 2017 )

Jr's Express Car Wash 1st Anniversary raffle benefiting The Bucks County Heroes Scholarship Fund is complete! Together with our community, we raised $1061 from selling raffle tickets, and Jr's matching that with $1061, for a total of $2122!

Jr decided to do a 1st anniversary raffle because giving back is very important to us at Jr's. Jr selected The Bucks County Heroes Scholarship Fund because Jr himself is an EMT, so he feels it's important to support the families of our fallen heroes and those who sacrifice to help our community stay safe! The Bucks County Heroes Scholarship Fund was formed for the purpose of providing scholarships to the children of police officers, firefighters, rescue squad, correctional officers and emergency service personnel who are killed or permanently disabled in the line of duty.

Thank you so much to everyone that participated in the raffle, and we look forward to working together with our community for future beneficial programs.